Gender Based Violence during this COVID-19 Pandemic.Part 1.
Disease outbreaks affect women and men, boys and girls differently, and epidemics make existing inequalities for women and girls and discrimination of other marginalised groups such as persons with disabilities and those in extreme poverty, worse. During this COVID-19 pandemic, where movement is restricted, people are confined, and protection systems have weakened, women and girls are at greater risk of experiencing gender-based violence, and are at the threat for harmful practices including female genital mutilation and child, early, and forced marriages, especially for girls in disadvantaged and hard-to-reach areas and areas where patriarchal systems are very high. DWB is encouraging you to help the victims through the following ways:
Listen and Link– If someone experiences gender-based violence and asks for help you might have the capacity to help or not, if you don't have the capacity, you can be a source of support by linking the victim. Listen to their problem and link them to information about helplines and other social support services. Click on the link www.dwibo.org and have a live free chat with our well experienced counsellors and therapist who will help you overcome what you are going through.
You Can also call SGBV Hotline-1195, or Child line toll free number- 116 for children issues. Remember, it's not the survivor's fault. During times of any crisis, some families use negative coping mechanisms such as child marriage, violence, sexual abuse like raping or other harmful practices like committing suicide. These are not solutions! Protect every member of your family by SAYING NO to these harmful practices. Don't feel ashamed to seek for help, remember that all of us are human beings and it's ok not to be ok. It's not a crime not to be ok. As a leader in your community you can stop child marriage and other harmful practices from happening in your village. Promote peace among couples and families during this COVID-19 global pandemic crisis. Guide your people and act and not just action but action with boldness.
Women may have more work and pressure on their shoulder. We are here to remind you that it is ok to feel overwhelmed, stressed or scared. Do not feel ashamed to seek help from DWB at www.dwibo.org. We are here to support you to overcome what you are going through. If you feel unsafe in or around your home; if you are harmed or feel threatened, intimidated or harassed; call for help, remember your safety comes first. Do not shy away from seeking help during this COVID19 pandemic period.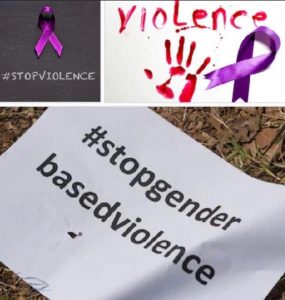 We are reminding men to join Us in saying NO to Gender Based Violence and to lead by keeping themselves, family and community healthy and protected. Let not the state of emergency, confinement, government restrictions be an excuse for violence. Let Us Say no to any form of violence. Uncertainty on the future and impact on livelihoods can increase worries for the everyday sustainability of the family. You may feel caged, feel crowded at home or feel isolated and have a hard time without social contacts and intimate relationships. If you find yourself getting so angry or frustrated that you think a disagreement may turn into a fight with your partner or children, take a break pray, meditate, read or do some sports or house exercise and talk about the matter later when everyone is less angry. Let's replace violence with communication.
#TUJIKINGE TUKOMESHE CORONA
#KOMESHADHULUMAZAKIJINSIA
#SayNOtoGBV.#VolunteerAgainstCOVID19.